Your insurance
matchmaker
Personalized insurance service from professionals.
Your Insurance Matchmaker
Personalized

Insurance Solutions

Your preferences, goals and budget dictate how we customize your insurance plan.  Whether you need Life, Long Term Care, Disability insurance or annuity, our team is here to help find the perfect insurance match for you.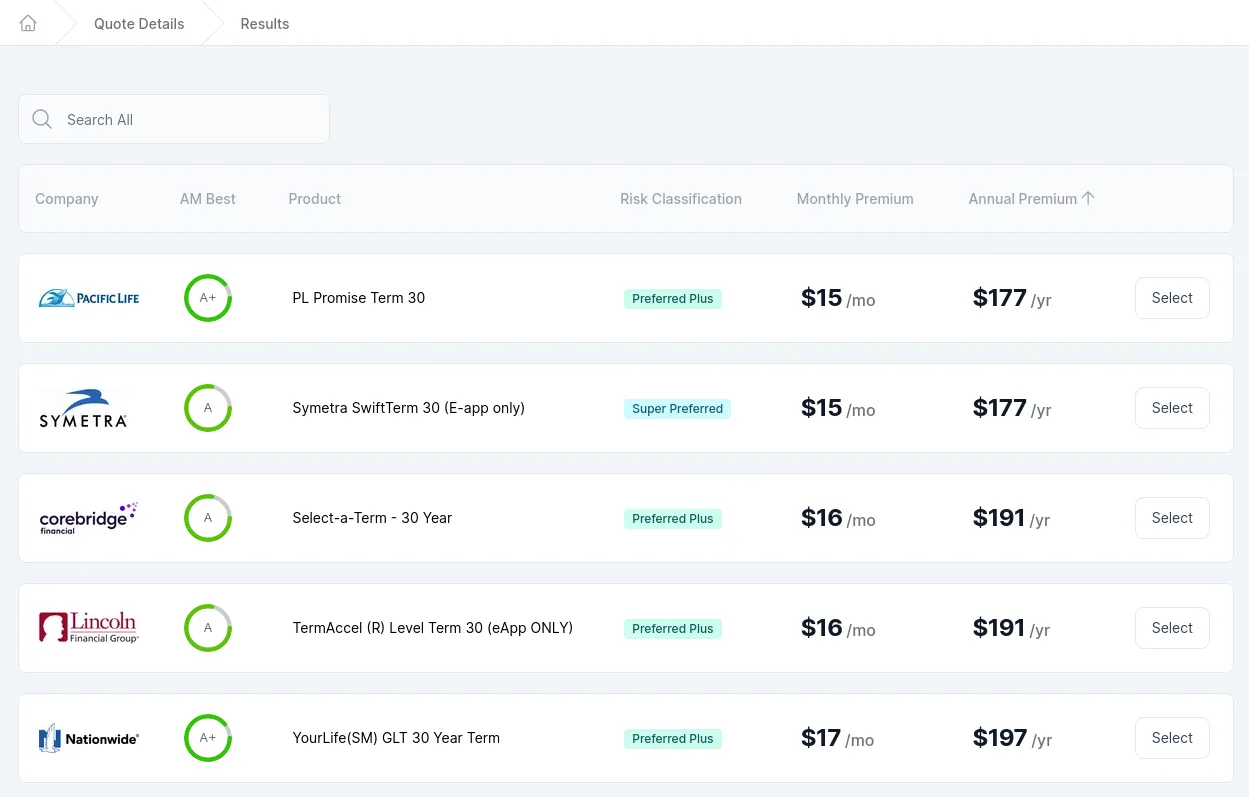 Peachie Thompson, our founder and CEO has over 25 years of experience and underwriting expertise in life, long term care and disability insurance as well as annuity.  She has helped thousands of advisors and clients protect their financial future. Whether you are a fee-only advisor or a consumer looking for unbiased advice, you can count on us to be your insurance advocate.
Case Design. Your current situation, needs, budget, and future plans are analyzed by our team to find the best insurance product for you.  You get the best value for your money because we compare different options from various carriers.  Ultimately, we design a customized insurance plan that matches YOU.
Underwriting. Cost is dictated by the underwriting class that you receive as well as the product that you choose.   Our ability to procure favorable underwriting classes result in premium savings for you.  You may expect a high level of service when it comes to processing your application, negotiating with carriers on your behalf all the way to delivering your policy.  You and your financial advisor are regularly updated on the status of your application and we address any issues that may arise along the way.  Favorable underwriting offers for you stems from our decades of expertise and experience in this field.
Client Services. Your policy is reviewed periodically by us to make sure it still meets your needs and goals.  You can count on our ongoing support and service for the policies you purchased through us.
Education
We believe that education is an essential part of making informed decisions about insurance. That's why we provide educational resources and tools to our clients and advisors on various topics related to insurance.
We also host webinars, workshops and podcasts where we share our insights and knowledge on the latest trends and developments in the insurance industry. Additionally, we maintain a blog and our experts speak at conferences, universities and groups to share their knowledge on insurance-related topics with a wider audience.
Furthermore, we offer approved continuing education credit courses for licensed financial advisors to help them stay up-to-date with the latest developments in the industry.
Get started
today
Whether you have a clear goal or need some guidance, we're here to help you with your insurance.
Clients and advisors
love us.
We are happy to produce results for our clients and help them achieve their financial goals.
Peachie is such a trusted partner of our wealth management practice! She is kind and patient and an expert in her field.

Peachie takes the time to help us educate our clients and ultimately, I know our clients benefit from her expertise.

Through Peach Insurance Services, we are able to offer best in class, customized insurance solutions for every client's individual needs.

Peachie is a rock star insurance professional and a pleasure to work with!

Founder of Whitman Wealth Management

It has been my pleasure to work with Peachie G. Thompson of Peach Insurance Services as the CEO ACH Wealth Management LLC, a new registered investment advisory firm in Gainesville, Florida, that does not work on commission.

Peachie has done an outstanding job at listening to the concerns of my clients and taking the time to give thoughtful suggestions and provide appropriate recommendations. Peachie is patient and intelligent.

As a fiduciary I know how important it is to put the client's interests first and I truly feel she has my best interests in mind and, more importantly, my client's best interests in mind.

Founder of ACH Wealth Management

In working not only to become debt free, but to figure out insurance, an emergency fund, college savings funds, investing, budgeting, and to even have a sinking fund for Christmas gifts each year, the finance world was quite overwhelming. However, life insurance was one of the top priorities to "figure out." We found ourselves at an age where we should have had this in place already to ensure our children were taken care of in case of emergency, but we didn't.

The easiest process of our financial journey was figuring out the best life insurance for myself. Peachie was there with me for guidance on what level I should have for my age, how many years it should cover and which company was best. I didn't even have to see a nurse. The yearly insurance rate works within my budget too! I'm proud to say my husband and I are now debt-free except the mortgage; our insurance and emergency fund are in place and now we can move on to enjoying life and paying off that mortgage early.

It was so easy to work with Peachie that members of my family worked with her too and quickly finalized their life insurance to protect their children. If you find yourself in a place without life insurance whatever age don't stress about it just email Peachie - she'll do the work to walk you through quickly and expertly so you can take care of your family too. Thank you Peachie!

So glad that I met Peachie when I did!. I don't make any insurance-related moves without talking to her.

Founder of Financial Egon Advisors

When an elderly client of mine had a unique problem with an old annuity, I turned to Peach Insurance for help and found incredible value, guidance and an ideal solution. Peachie Thompson took the time to explore our options and provide helpful information to guide me through this problem which ended up being more of an opportunity!

Thanks to Peach Insurance my client thinks I'm a genius and he is in a substantially better policy all while deferring the ordinary income from the annuity. I appreciate the follow-up Peachie & Dane provided after the policy was in place. They truly cared that my client was satisfied. Thanks Peach Insurance!!!

Founder of Formula Wealth

Peachie helped us pick the best insurance suitable for my family. She is straightforward, honest and knowledgeable. She is thorough, patient and very prompt when answering all our questions. Very happy with her services and definitely would recommend to friends and family.

I highly recommend Peach Insurance Services! We worked directly with Peachie and she was incredibly professional, informative, patient and helpful throughout the process. Choosing life insurance is a big decision and Peachie was able to guide our family to find insurance that would work best for each of us.

Peachie was quick to communicate and thoroughly explained all our questions so we knew we were making the right choice when choosing a plan. Dane has also helped us with ensuring our accounts are properly set up such as doing autopay. They truly care about clients and we felt taken care of from start to finish.

My family and I are so happy with their services and definitely recommend to anyone who is currently looking into insurance policies!

I have received excellent service from Peachie insurance. Just recently I asked for some information regarding my new policy that was purchased last year and within an hour I had received a full scope response to my inquiry. Thank you Peachie for your excellent service.

Peachie has been very responsive to client inquiries and is willing to talk through the insurance planning that is the right fit for our clients.

Founder of Create Wealth Financial Planning

I have been a life insurance agent for over 12 years and I met Peachie during an externship at the Financial Planning Association. Peachie showed a genuine interest in answering some questions I had and she immediately scheduled time with me to address my questions. I was very impressed with the vast knowledge Peachie has and the objectivity of her answers.

I decided to buy additional life insurance for my wife and I through Peachie. Let me tell you, Peachie took me to school! I was amazed at the professionalism throughout the process of both Peachie and her staff. Peachie took her time to explain different scenarios, policies and to answer questions. No rushing whatsoever.

Peachie was able to explain the different companies, the good, the bad and the ugly which helps you decide on which company to go with. She has the capacity to match you with companies based on your history. Peachie keeps you informed at all times about progress and she is quick to respond to your inquiries.

If there was a scale from 1 to 10 on how amazing is the service Peachie provides she will get a 20. She is a role model to follow and the insurance broker you want on your family side.

Peach Insurance Services in an exceptional company! Peachie Thompson and her team offer a wealth of expertise and top-notch professionalism to deliver outstanding financial and insurance guidance. Peachie will thoroughly evaluate client objectives to structure a recommendation which will most assuredly best meet your needs.

Aside from the many years of insurance expertise, Peachie and her team deliver superb communication, customer service and information updates which continue well beyond the initial contact. Peach Insurance Services meets client needs on every level with care, integrity and professionalism.

Highly recommend Peach Insurance Services!

I started with another insurance company and they were not responsive at all. They did not make the process easy – since my old policy has lapsed. Peachie came to me as a recommendation from my financial advisor. She is thorough, very easy to talk with and answered all of my questions.

She spent a lot of time with me to make sure I understood the full process. Working with her was a totally different and positive experience. I would definitely recommend her to anyone who is looking for life insurance.
Crafted policies,

customized for you.
We offer a variety of plans to fit your needs.
From $9/month
Protect yourself from the unexpected.
Disability
Protect your income from disability

Choose coverage duration

Find your perfect policy fit

Customize with different features
From $15/month
Protect your family from the unexpected.
Life Insurance
Death benefits could be tax-free

Secure future for family

Funeral or final expense coverage

Chronic and terminal illness coverage

Supplement retirement savings

Protect your company's future
From $25/month
Insure your needs will be met.
Long Term Care
Cover costs of care for chronic conditions

Choose where to receive care (home, facility, etc.)

Protect savings and assets

Enjoy tax benefits
Use qualified or nonqualified money
Plan for your retirement
Annuities
Guaranteed income for life

Principal protection

Tax-deferred growth

Supplemental retirement income

Opportunity for growth/protection
Frequently asked questions
Your questions matter to us. Here are some common ones.
What is life insurance?

Life insurance is a type of insurance that pays a lump sum to your beneficiaries if you die during the term of the policy.

What is disability insurance?

Disability insurance is a type of insurance that replaces a portion of your income if you become unable to work due to illness or injury.

What is long term care insurance?

Long term care insurance is a type of insurance that covers the cost of care for people who need assistance with daily activities due to chronic illness, injury, disability, aging or cognitive issues.

What sets Peach Insurance Services, LLC apart from other insurance solutions?

Peach Insurance Services, LLC offers you a unique combination of personalized and professional service from Peachie Thompson and her team, an independent insurance broker with over 25 years of experience in the industry. Peachie works with multiple carriers nationwide and can find the best coverage for your needs, based on your goals, budget and risk tolerance. She also has extensive underwriting knowledge and can help you get the best possible rates, even if you have health issues or a complex medical history.

How do fee-only financial advisors work with your company?

Fee-only financial advisors are fiduciary financial professionals bound to put their client's best interest first, who charge a set fee for their services and do not receive any commissions or incentives from selling products or making referrals. They recommend Peach Insurance Services to their clients who need life, long term care and disability insurance or annuities because they trust us to take very good care of their clients.

Do I need a fee-only financial advisor to get insurance through your company?

No, you do not need a fee-only financial advisor to get insurance through our company. Part of our process is to help you discern if you need a financial planner. If yes, we are able to match you with a fee-only financial advisor best suited for you, as a courtesy to you. Otherwise, we help you with your insurance planning.

What are the benefits of working with a fee-only financial advisor?

A fee-only financial advisor is an independent professional who charges a set fee for their services and does not receive any commissions or incentives from selling products or making referrals. They may offer unbiased and objective advice on various aspects of your financial situation, such as retirement planning, investment management, tax strategies, estate planning and more.

Can you refer me to a fee-only financial advisor?

Yes, we can refer you to a fee-only financial advisor who matches your needs. To get a referral from us, please contact us and provide some basic information about your goals, preferences and budget. We will then search our network of qualified fee-only financial advisors and connect you with one who meets your criteria. You can also check their credentials and qualifications on your own by reviewing their Form ADV on the U.S. Securities and Exchange Commission (SEC)'s public disclosure website.

How to apply and find out the cost of insurance?

The cost of insurance is based on your personal and financial situation. You have three options to find out how much you would pay:

Fill out our guided application and we will do a thorough investigation to match the best insurance company and policy for your circumstances.
Use our instant quote tool if you are interested in term life insurance and already know what you need. You can compare and choose the policy that suits you best.
Fill out our contact form and we will get in touch with you soon to help you figure out what you need.